Accessing the ANFF

The ANFF provides leading-edge research capability and supports excellence in science. It has a strong emphasis on service provision to the research community. ANFF seeks to enhance national and international collaborations and enable world-class-research by providing access:
• in accordance with the published access and pricing policy;
• that takes into account the long-term strategic requirements of relevant research disciplines; and
• on the basis of merit in accordance with the norms and expectations of the research community.

The streamlined application process involves submission of a short proposal to the relevant node. Initial contact can be made directly with a node, or if you require further information on which node would be most suitable, via the ANFF central office.

Nodes aim to provide access within one month of application.

Access to the ANFF may take place in a variety of ways, principally:
Direct access to instrumentation based on an hourly rate, or

Fee-for-service, for example the production of specialty optical fibres or photomasks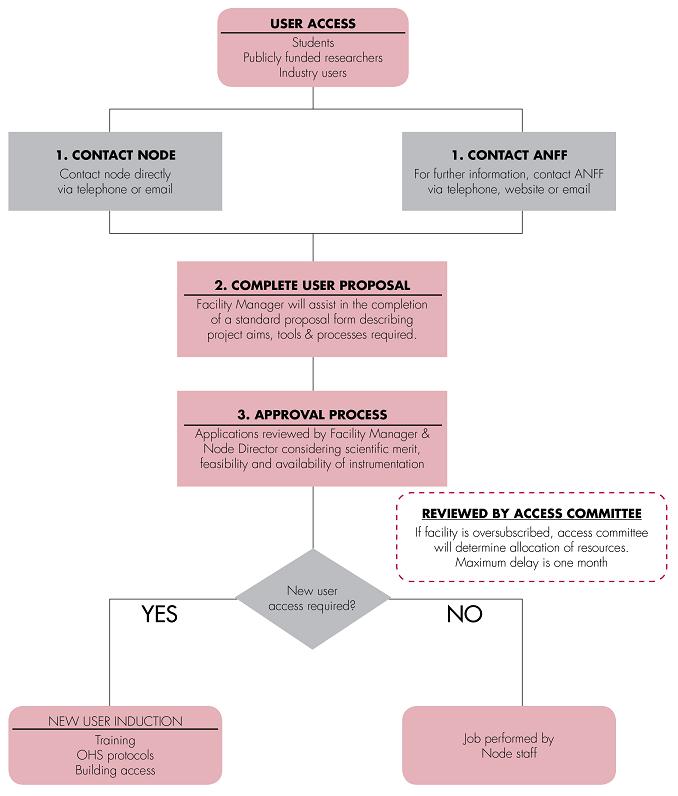 Dedicated staff are on hand to provide either services or training & technical support to users where appropriate. Industry access at commercial rates is available for proprietary research. Research collaborations and contract R&D or consulting are also welcomed.

Prior to submitting an application, users are encouraged to discuss their requirements with the node to ensure the program design and requirements are a good fit to the facilities available. Scientific merit and feasibility are considered during these initial scoping discussions. Importantly, all publicly funded researchers are treated equally regardless of host institution.

The pre-visit interactions with node staff enable users to optimise their proposals and ensure that the time spent in the node is effective and successful.